Profitability Meets Sustainability with Electrolux Professional Laundry Equipment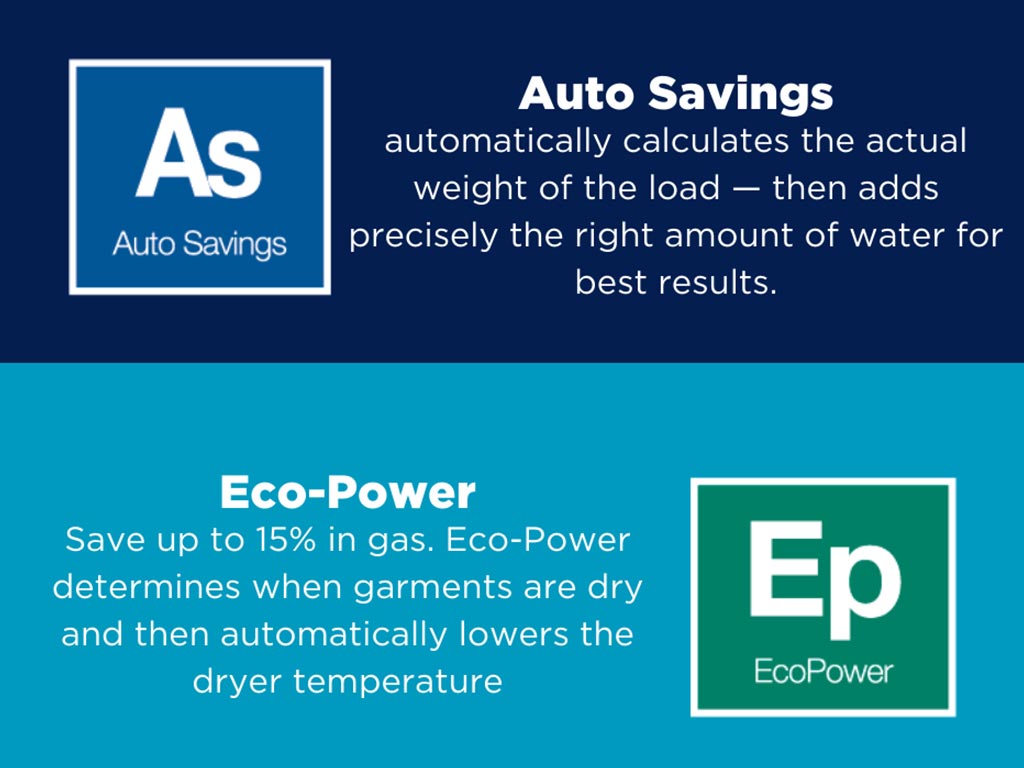 Do you want to make your laundromat, in-house laundry, or dry-cleaning business more eco-friendly? Electrolux Professional Coin and On-Premises Laundry (OPL) Equipment can help your business save on energy and water consumption, which means lower utility bills and higher green credentials.
✓ It Pays to Go Green
If you think that your business must choose between profits and sustainability, think again! While the initial cost of energy efficient equipment may be higher than less efficient models, your business will be paid back many times over in utility savings alone.
Eco-Benefits of Electrolux Professional Washers & Dryers
Electrolux Professional laundry equipment is packed with innovative and efficiency-boosting technology. Here's just some of our equipment's eco-friendly features.
✓ Auto Savings
AS automatically calculates the actual weight of each load — then adds precisely the right amount of water needed, significantly reducing water consumption up to 50% and energy costs.
✓ EcoPower
This unique technology senses when garments are dry and then automatically lowers the dryer temperature creating up to 15% in energy savings.
✓ High Spin Extraction
High G-Force extraction technology removes more water from your garments. This means less time is needed in the dryer, and less energy usage overall.
✓ Reversing Dryer Cylinders
Reversing dryer cylinders improves dryer efficiency and minimizes tangling and wrinkling. Sheets and towels dry faster, saving your business energy and time.
✓ Compass Pro
Easily adjust parameters such as water levels, temperatures, and drum action to lower water usage and cost.
Do You Know… Electrolux Is a Leader in Sustainability
✓ Electrolux has cut its carbon footprint by 27% since 2005.
✓ Electrolux has increased its use of recycled plastic by more than 50% per year on average since 2012.
✓ Electrolux has increased the efficiency of its products with 42% less energy used per manufactured product in 2016 compared to 2005.
Read the full Electrolux Sustainability Report 2016.