How To Create The Best Laundromat Layout & Design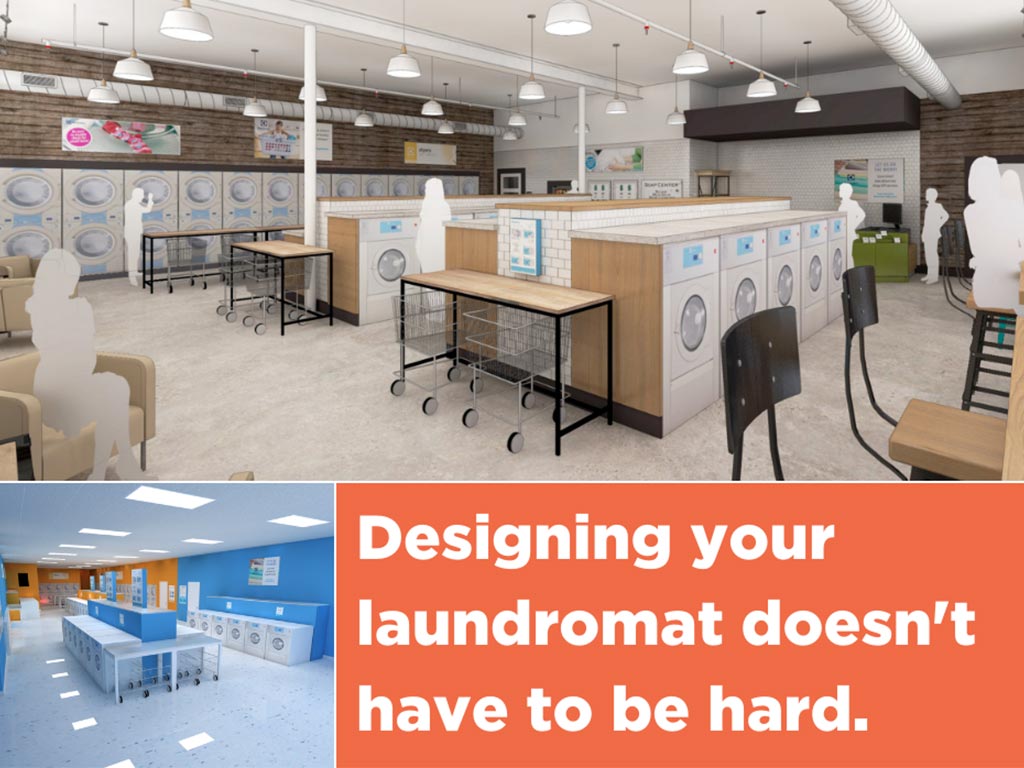 Our How to Start a Laundromat Series is a collection of introductory blog posts for entrepreneurs interested in opening a laundromat. This time, we're taking a look at the elements of good store layout and design.
If you have read the previous posts in this series, you already know about all the profit-boosting features of Electrolux Professional washers and dryers to make them the right equipment choice for your new laundromat. But aside from having the best coin laundry equipment in town, what other reasons might customers have to make a visit to your laundromat part of their regular routine? By thinking about the design and layout of your store, you can make sure that customers have a pleasant experience and want to return week after week.
In a hurry? Jump to our quick tips section.
First Step — Talk to the experts!
Before getting out your sketchpad to design your dream coin laundry store, why not take advantage of the expertise available to you. When you choose Electrolux Professional coin laundry equipment for your laundromat, you gain access to experts with years of experience in designing and building profitable coin laundry stores. Whether they are your local Electrolux authorized distributor or one of Laundrylux's own experts, these laundry professionals can help you design a layout based on an existing space or even work with you to develop plans for a ground-up project.
Work With What You've Got
Once you have acquired your premises, you'll have a good canvas on which you can create your layout. Whether it is an existing laundromat or another type of retail space, there might be something about the premises that is not ideal. Perhaps it is long and narrow; perhaps it lacks adequate natural light. Don't be discouraged! A good laundromat design will work to bring out the best aspects of your existing space.
If however, you are planning on a ground-up construction, you'll have a great opportunity to design your perfect store. Talk to your local distributor or a Laundrylux expert about the right number of washers and dryers for your location, and build your design from there.
Put Yourself In Your Customers' Shoes
Your goal as a laundromat owner is to make your customers' experiences in your store as useful and as pleasant as possible. The useful part of the equation is easy — stock your store with Electrolux Professional laundry equipment. The pleasant part of the equation requires a little more thought. As a visitor to a new store, what are some things that would make your stay a pleasant one? First, you might notice if the store is clean or untidy, next you might notice if the store is well lit or if there are dark areas where you might feel unsafe, next you'd look at the equipment to see if it appears to be in good condition (avoid out-of-order signs), finally you might look around for signage to help you locate the right equipment or change machine — or if you're a first-time visitor, give you instructions on how to use the washers and dryers or download the LaundryPay app.
Design Tips For The Best Laundromat
Okay! So you've booked a consultation with the experts, have gotten an idea of your square footage, and considered the kind of customer experience you want to create — now you can get that sketchpad and have some fun designing your new store while keeping the following tips in mind.
Laundromat Lighting
Lighting is a very powerful tool in interior design. In your home, you can use lighting to create bright workspaces in your kitchen and a warm & cozy atmosphere in your living room. In your new laundromat business, you can use lighting to create a bright space that feels clean and safe. During daylight hours you can take advantage of a South-facing glass frontage, but after dark you'll need bright in-store lighting. Fluorescent and LED are good choices. Avoid incandescent as it's more suited to warm & cozy spaces.
Store Cleanliness
You might think that cleanliness has more to do with a regular maintenance routine than your laundromat's design and layout. But with good design choices you can make your store easier to keep clean and — just as important — make it feel clean. Choose the right materials for your floors and walls. Tile and high-gloss wood are easy to clean and look great!
Professional Signage
Even if you intend to open a fully-staffed laundromat, clear and easy-to-see signage will improve your customers' experiences. When considering colors and fonts, match your signs to the overall look of your store. Of course, if you choose to open a fully-equipped Electrolux Professional laundromat, Laundrylux Creative Services (LCS) can provide you with a complimentary Electrolux in-store sign kit.
Best Laundry Equipment
Your Electrolux Professional washers and dryers are beautifully designed and will attract customers all on their own. One great thing about choosing Electrolux equipment is the instant brand recognition. Electrolux is known for high-end design and environmental responsibility; customers will automatically associate your business with these positive traits when they see your brand new Electrolux Professional equipment. Many customers prefer large, high capacity washers and dryers that let them do their weekly washing in one go, so make sure to put your high-capacity models in a prominent place in your store.
Store Layout
Too few washers and dryers in a large space will make your store seem sparse and not well equipped, while rows of machines too close together will make your store seem cluttered and create dark spaces. Make sure that there is enough space for two laundry carts to comfortably pass each other (taking account of open doors on washers and dryers), and there is adequate space for customers standing at folding tables. You should also take into account customers with restricted mobility, and speak with your building team to ensure you are complying with local building codes and regulations.
Interior Design Colors & Materials
Colors and textures play a huge role in the feel of your store, and your choices should reflect the kind of store design you want to achieve. Do you want a bold, fun design — choose plastic chairs and folding tables in primary colors. What about a minimalist design — choose a glass frontage, stainless-steel surfaces, and white tiled floors and walls. What about a natural, eco-laundry feel? — choose light wood furniture with modern wood paneling on the walls. There are no wrong choices, just pick a style and be consistent.
Quick Tips for Entrepreneurs in a Hurry
★ Begin by talking with an expert, taking the limitations of your space into account, and putting yourself in your customers' shoes.
★ Lighting can create a clean and safe atmosphere. Choose LED or fluorescent, and avoid incandescent bulbs.
★ Choose easy-to-clean materials for your floors and walls.
★ Display your most popular high-capacity washers in prominent places in your store — ideally near windows so passers-by can see too.
★ Use signs to help customers navigate your store. Ask LCS if you qualify for a complimentary Electrolux in-store sign kit.
★ When considering paint colors and the textures of your furniture, pick a style and be consistent.