How To Choose The Best Laundromat Accessories — From Laundry Carts to Change Machines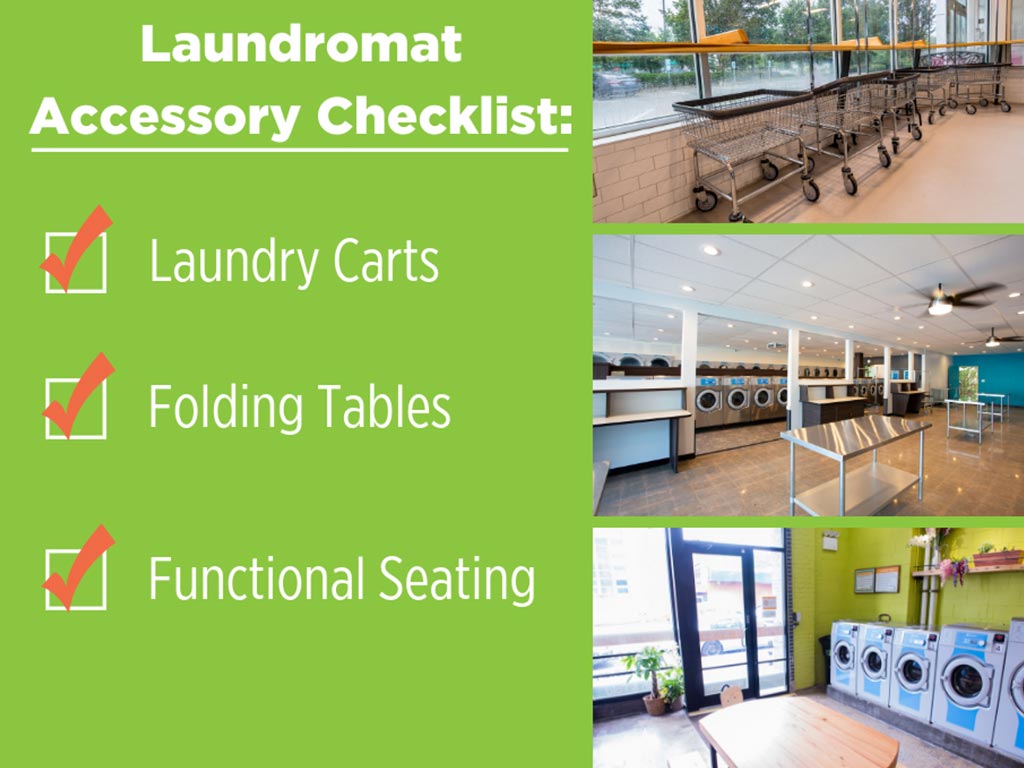 With our How to Start a Laundromat Series, we are putting together a handy A-Z guide for anyone interested in owning and operating their own coin-laundry store. This time, we're looking at the types of in-store accessories you can choose to make your customers' visits as convenient and comfortable as possible.
In a hurry? Jump to our quick tips section.
Laundromat Ancillary Items
While commercial washers and dryers will be the driving force behind your business, there are a number of products that will be necessary for you to consider before opening your laundromat business. These ancillary items fall into three main categories: payment systems, construction items, and in-store accessories. In this blog, we'll focus on in-store accessories. Look out for future posts about payment systems and laundromat construction.
The accessories you choose for your store will play a large role in creating a comfortable, convenient, and overall pleasant environment for your customers.
Laundromat Change Machines
Depending on what type of payment solution you adopt, your store may, or may not, need change machines. But if you plan to allow customers to pay with quarters or tokens, these machines are essential. When selecting a change machine, the main things to consider are what these machines accept (cards, bills, or both) and what they dispense (quarters, bills, or tokens).
If you are opening a self-service laundromat, you should consider a model with a bill-changer included, as these machines require less frequent refilling with quarters. Owners with security and vandalism concerns may choose machines which dispense tokens that customers can use to pay for washers and dryers.
Durable Laundry Carts
Make it easy for your customers to transfer their laundry from the washer to the dryer by equipping your store with rolling laundry carts. Wire carts are a popular choice for store owners because they are lightweight enough for customers to push while being tough enough to withstand everyday use in a laundromat. Laundry carts are available with or without hanging rails and come in a range of sizes.
User-Friendly Vending Machines
Provide your customers with access to their favorite brands of soap and fabric softener with in-store vending machines. You can also equip your store with vending machines filled with snacks and drinks to keep customers satisfied while they wait for their wash.
Comfortable Laundromat Furniture
If you outfit your store with Electrolux high G-force washers, your customers won't need to wait long for their laundry, but they will still appreciate a comfortable place to sit. Because they are easy to clean, plastic and metal are popular choices for seating, while some laundromat owners prefer the appearance of wooden benches. Before selecting furniture, you should consider the design and color concept of your store. Seats and tables are prominent features, so be sure to think carefully about how the color and design of your furniture fits the overall appearance of your store.
Laundromat Folding Tables
Just like seating, laundromat folding tables carry out the dual function of providing convenience for your customers and making your store look great. Again, you should choose a material that is easy to clean — wood, metal, and plastic are all great options. It is also important to provide enough folding tables to serve your customers during peak times. Particularly if your parking spaces are limited, you will want to make it easy for customers to get through their laundry quickly. Too few folding tables may cause a bottleneck leading to occupied parking spaces and your customers driving to your competition instead.
In-Store Entertainment For Customer Satisfaction
To make your laundromat as welcoming as possible, you may choose to provide entertainment for your customers — big-screen TVs and free wifi are popular choices. Store owners looking to generate a family-friendly atmosphere may add a children's play area, while stores in hip areas or college towns might choose retro arcade games or pinball machines — try to match your entertainment to the overall look and feel of your laundromat.
Quick Tips for Entrepreneurs in a Hurry
★ Your laundromat accessories provide convenience to your customers while contributing to the overall style and feel of your store.
★ If you choose to accept coins, change machines are essential. For unstaffed laundromats, bill changers are best. For stores with security concerns, token dispensers are a good option.
★ Wire laundry carts are a good choice because they are lightweight and hard wearing.
★ Soap vending machines are recommended while snack and soft-drink vending machines are also popular.
★ When choosing furniture and folding tables, choose colors that suit the design of your store and choose materials that are easy to clean. Plastic, metal, and wood are ideal.
★ Match your entertainment choices to your customers. Free wifi and large TVs are a good place to start.