Fire Stations Across the US and Canada Rely on Wascomat Commercial Laundry Equipment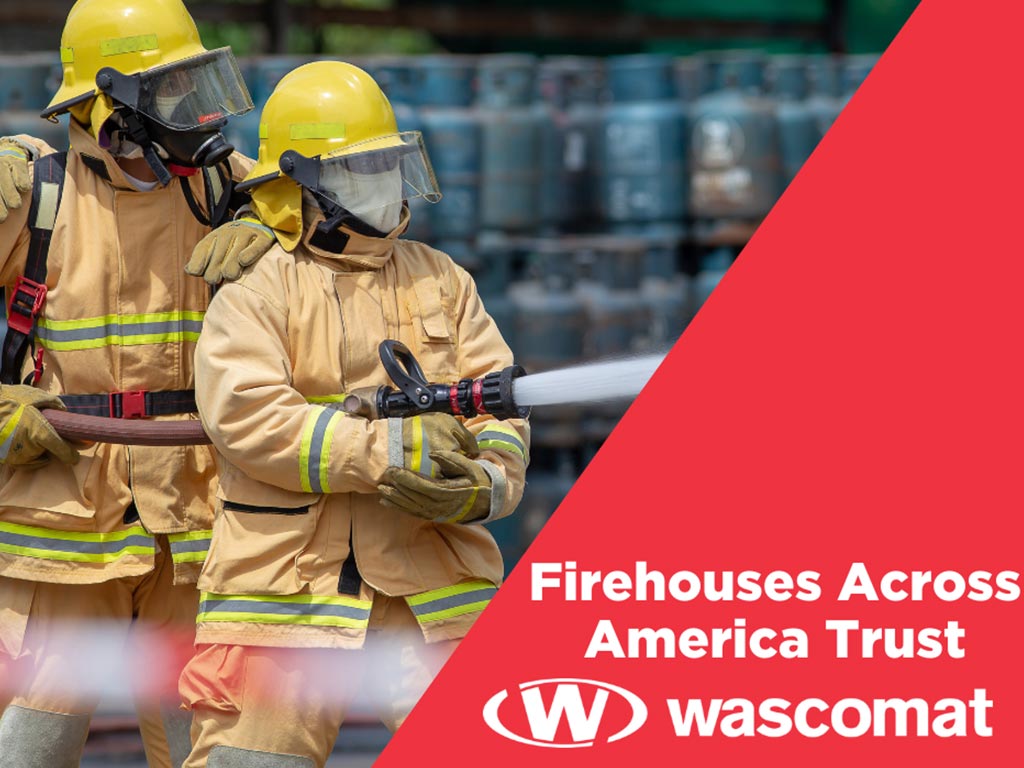 There are many demanding environments in which Electrolux and Wascomat on-premises laundry equipment excels — whether it's the high volume of a hotel laundry or the strict hygiene standards of hospital laundry rooms. But one of the most challenging and important applications of our commercial laundry equipment is in the laundry rooms of fire stations throughout North America.
Fire departments know that they can rely on Wascomat Commercial equipment to thoroughly clean their firefighter gear— removing dangerous chemicals, oils, and infectious pathogens — while still being gentle on their life-saving garments.
Unique Challenges of Laundering Firefighter Garments
Cleaning overalls and jackets in the correct way is paramount to ensuring the safety of firefighters. These brave men and women operate in extremely demanding environments where they may be exposed to fire, extreme heat, chemicals, and infections. A fire station laundry operation must thoroughly clean firefighting gear without damaging the protective garments that keep firefighters safe.
Wascomat Commercial Washers & Dryers for Fire Station Laundry Rooms
Compass Pro Microprocessor: Powerful Results, Easy to Use
For the health and safety of firefighters, bunker gear must be thoroughly cleaned, and all contaminants must be completely removed. But welded seams and reflectors in these garments cannot be subjected to excessive temperatures. With Compass Pro — the powerful microprocessor in Wascomat Commercial washers — a program can be easily created to ensure overalls and jackets are completely cleaned without the need for high water temperatures.
Compass Pro comes with 30 built-in wash programs with an additional 10 slots free for custom programs. So, with a turn-of-a-dial, you can wash turnout gear, truck towels, liners, gloves, and regular laundry such as clothing, bedding, and station wear.
Low Spin 100 G-force Washers: Gentle on Gear, Built Tough for Less Downtime
Turnout gear could be damaged by the mechanical stress of high-speed washers. The NFPA recommends not exceeding 100 G-force, and in many cases, manufacturers of protective clothing void their warranty if firefighter gear is washed in higher spin machines. Wascomat's 100 G-force frequency-controlled washers spin at the correct extraction speeds for thorough cleaning without the wear-and-tear.
Wascomat washers are built tough. Riveted steel construction eliminates welds for strength and added durability. This is particularly important for fire stations because many uniforms have a membrane which may create water pockets that can cause extreme unbalancing during extraction — putting added strain on the washer. Wascomat Commercial washers are designed to stand up to these tough conditions.
Wascomat Commercial Dryers: With Special Insert for Awkward Items
Manufacturers of protective garments provide specific instructions for properly drying
turnout gear — we can help you meet those guidelines. Wascomat Commercial dryers are also available with special inserts for drying gloves, helmets, and masks.