Celebrate Earth Day With Our Environmentally Responsible Laundry Equipment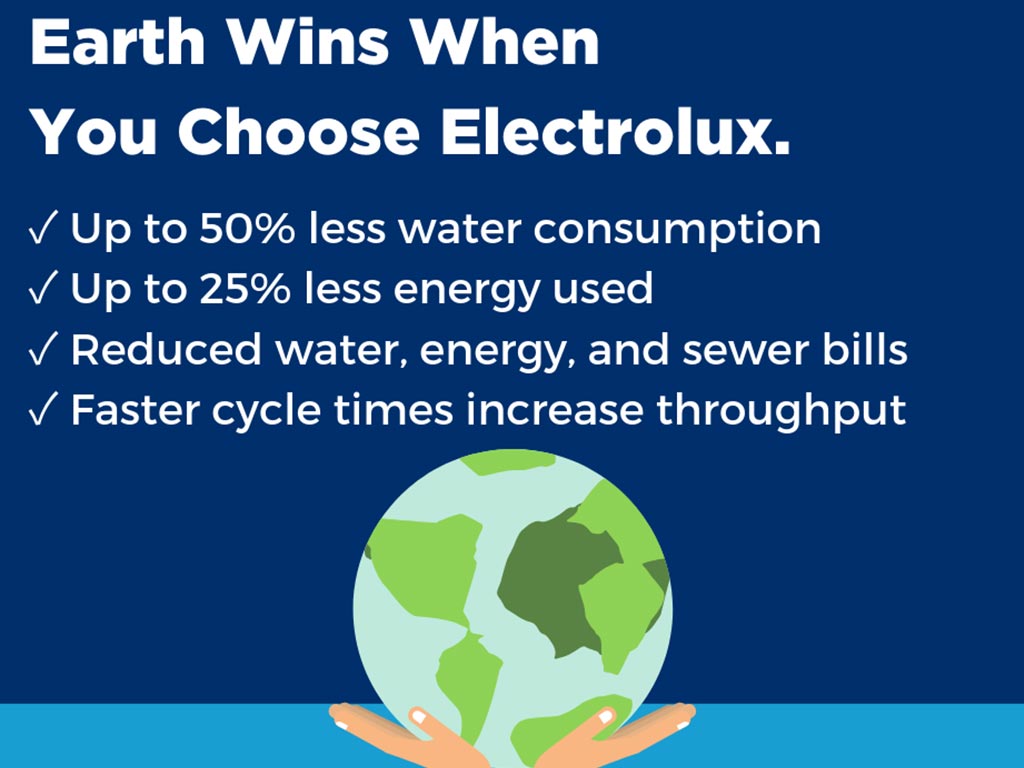 April 22 is Earth Day — the perfect time to think about making your laundry business a little more Earth-friendly!
Whatever type of laundry operation you run — be it a dry cleaner, laundromat, commercial laundry, or on-premises laundry — even small changes can have a large positive effect on the environment.
Luckily, what's good for the environment is also good for your business. By eliminating harmful chemicals from the dry cleaning process you give your customers peace-of-mind and are likely to see your customer base grow. And by using water and energy efficient commercial laundry equipment, you can dramatically cut your utility bills.
Good for business, good for the Earth. What's not to like?
Solutions for Dry Cleaning Businesses
Wet Cleaning Is The Friendlier Alternative!
Traditional dry cleaning methods use chemical solvents to get garments clean and fresh. Unfortunately, these chemicals can be toxic to humans and to the environment.
With no solvents or other toxic chemicals required, wet cleaning is a much friendlier and safer way to launder "dry-clean-only" garments. Wet cleaning machines can launder traditional dry-clean-only fabrics like delicate wool, silk and viscose without any problem — and they are fast too. Garments can be ready for pick up in under an hour!
Why Is Wet Cleaning Better For The Earth & Your Business?
✓ No toxic solvents used
✓ No toxic chemical emissions
✓ Safer for you and your employees
✓ Increased customer satisfaction
Learn More About Our Wascomat Wet Cleaning Equipment and Lagoon Advanced Care from Electrolux.
Solutions For Laundromats & On-Premises Laundry Operations
Electrolux Professional Laundry Equipment Is The Sustainable Choice
Water Efficient Washing
You may know that approximately 70% of the Earth's surface is covered in water, but did you know that just 3% of it is fresh water? With populations continuously increasing around the world, this freshwater is becoming more and more precious every year. Of course, as it becomes more precious, it also becomes more expensive. So, cutting your water consumption has benefits both for the Earth and for your business. Luckily, Electrolux Professional washers can cut water use by up to 50% every wash.
Energy Efficient Drying
Energy efficient drying starts with your washing machine. That is if your washing machine is a high G-force Electrolux Professional washer. Our high G-force models extract a lot more water than regular washers. This means garments need less time in the dryer, with less energy used, and less wear-and-tear. Add up to 25% more energy savings with Electrolux Professional dryers, and your business will be truly minimizing your environmental impact as well as your utility bills.
Why Is Electrolux Professional Laundry Equipment Better For The Earth & Your Business?
✓ Up to 50% less water consumption
✓ Up to 25% less energy used
✓ Reduced water, energy, and sewer bills
✓ Faster cycle times increase throughput
Learn More About Our Electrolux Professional Laundry Equipment for Laundromats and On-Premises Laundries.
Read more about Electrolux's efforts in sustainability – their 2017 Sustainability Report gives all the details for past success and future plans!